What an Authority Website & How to Determine One
Link Majesty Team
Updated on
There are some websites whose keywords rank higher in search engines than on others. Those are known as authoritative websites. The term Authority Website is used to express the ranking priority of a website on search engines.
Let's look into some examples of high authority websites, such as Wikipedia, Forbes, Nymag, The Guardian, Stack Overflow, etc.
What Is an Authority Website?
A website that is trusted by search engines is called an authoritative website. To gain the trust of search engines, a website must first gain the trust of users, industry experts and other websites.
Authority is a part of E-A-T (Expertise, Authoritativeness, Trustworthiness). Authority is measured by metrics like the quality of the links pointing to your website, user experience, outbound links in your website, and social signal. Google explained E-A-T in-depth in their search quality evaluator guidelines.
In the past, Google shared authority data publicly through a tool called PageRank. However, in 2016, Google turned it off for public use. Though it's no longer publicly available, they confirmed that they still use that data for ranking factors.
Even though it's hard to measure the authority of a website, we can still follow some methods to determine it manually.
7 Steps That Determine a High Authority Website
There are a couple of tools that measure authority, and they all have proprietary website score metrics that depend on various components.
Moz DA: This popular metrics tool from Moz predicts the likely location of a website's rankings in search result pages. It is calculated by the number of unique domains and the total number of links that point to a website. More info
Ahref DR: Ahref's DR calculates the backlink profile of a website. It does this by scoring the site on a 100-point scale. More info
Trust Flow (TF): Trust Flow's score is calculated by using the number of quality backlinks a website has. Similar to DR, it uses a 100-point scale. More info
Google doesn't use these kinds of strategies to calculate a website's authority score, but you can get a general idea about authority scores from these tools. Let's dig into them a little more deeply.
We are going to use Ahref to determine a website's authority based on Backlinks, Keywords and Traffic.
Search the domain name you want to evaluate on Ahref site explorer. Let's assume healthbenefitstimes.com here.
While Ahref recently announced Site Explorer 2.0, it is better to do the evaluation using Backlinks 2.0 instead.
In the upper toolbar, filter Backlinks by dofollow and In content link type, and sort the list by Domain Traffic. In the box directly below that, select one link per domain from the dropdown menu.
Now it's time to evaluate websites that are linked to healthbenefitstimes.com. Keep your eye on DR, Traffic and Link Quality.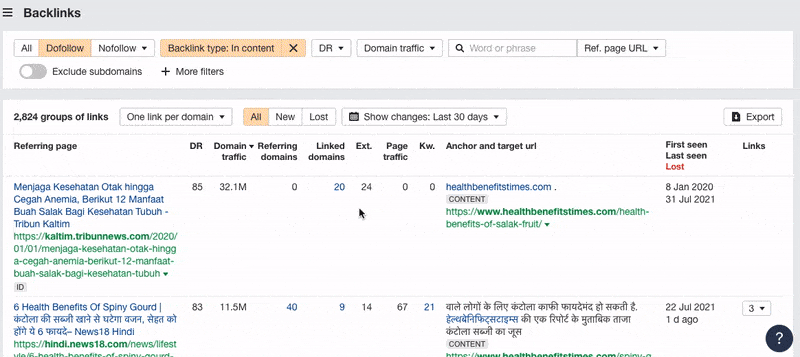 Note: We found multiple high authority websites linking to Health Benefits Times, such as Bustle, HuffingtonPost, Parade and others.
6. This time, we will evaluate the traffic source. This website has 48.2K traffic, according to Ahref. Let's dig into the Organic Keywords.
7. The website is about healthy food and fruits, so it is obvious to have traffic from keywords in that category. We will look into 2 major topics here: keyword relevancy and keyword difficulty. We'll evaluate them against the SERP position.
Note: We found multiple highly competitive niche-relevant keywords ranked on the first page of Google.
This website has a good level of authority on Google and its backlink profile and traffic sources are quite good.
How To Improve Your Website's Authority
Improving the authority score on SEO tools (Moz/Ahref) is easy because we know how they calculate a website's authority score. There are a couple of Fiverr gigs (harmful) you can order to increase your DA or DR. They will do it within 15 days.
How do they do it?
Some of them actually build backlinks with spammy software and the rest of them use a public PBN to increase SEO tool metrics. There is some bad news that you may want to consider, though.
As we mentioned before, Google gives authority scores to all websites. They use algorithms that are different from SEO tools to determine authority. The problem, though, is that we can't access that information. It is impossible to increase authority overnight.
But there are a couple of things we can do to increase our authority on Google over time.
Improve Your Topic Coverage
Most websites that have high authority are 6-12 years old. They published a lot of content in their niches over time.
It is not possible for you to publish that much content overnight. Instead, you should plan for continuous publishing of content that covers your niche.
Get Links From Authoritative Websites
In terms of authority, backlinks are the most important factor.
There are a few different strategies websites usually use to get links from high authority websites.
Linkable Assets: Create pages including statistics and research and try to make them unique and authentic. High authority websites are always looking for references, and if your content has that kind of data they will mention your website. Linkable assets benefit you in long term.
Outreach: Find websites in your industry and email them relevant articles to publish on their website. They might be interested in your article, and if so, they may keep your website link on it. If it's published, you will get an authoritative link. Read this article to learn how to find guest posting websites.
Agency: Many agencies run link-building campaigns for their clients. If you don't have enough time to do outreach, then you should go for an agency.
Link to credible sites
It is nearly impossible to explain everything about a topic on your website. Therefore, while you link to other sites to provide more information about a topic, make sure the website you link to is authoritative.
Never do too many outbound links; it affects your website's user experience.
Interested in Increasing Your Website's Authority?
By linking back to authority websites, you pass link equity to your website. This helps you increase your own authority. Therefore, you have a better chance to rank higher in Google searches.
Link Majesty makes your SEO faster and easier. We have 1000+ websites listed in our database that accept guest posts or link insertion. These websites are categorized into 2 categories:
Basic: Websites that help you to achieve a low competitive SERP ranking.
Premium: Websites that are highly authoritative and have earned significant trust on Google.
Premium websites have higher authority, and each one is manually analyzed by the Link Majesty team.