12 Types of Backlinks that can Boost your Search Ranking
Link Majesty Team
Updated on
Backlinks play a critical role when it comes to optimizing your site for search engines. Your SEO success largely depends on your link-building efforts. Before you start building backlinks for your website, be sure to understand the different types of backlinks and how they impact your SEO results.
In this blog post, we'll talk about different types of backlinks. Let me give you a little background first before we talk about anything else.
Before Google Penguin Update (2012), it was all about the number of backlinks. SEO professionals started using spammy ways (Blog Comment Software) to create a huge number of links to get ranked on search engines.
However, this technique doesn't work anymore. Today, you need to focus on the quality of backlinks rather than their quantity. A quality backlink simply means a link from an authoritative, reputable website.
If you want to learn more about authoritative websites click here.
The Google algorithm has been updated frequently in the past couple of decades, changing the way it displays search results. As an SEO expert, you should be more considerate and strategic when it comes to building links.
Your link can be dofollow or nofollow and both can help your website rank better. Nowadays, nofollow backlinks can be treated as dofollow by ranking algorithms. We have detailed articles on nofollow and dofollow backlinks.
It's time to find out the types of backlinks!
12 Types of Backlinks That Helps to Rank
We're going to explore 12 different types of backlinks. Remember, you only need to focus on the type of backlinks that could help you rank better on search engines. While some links boost your ranking, others make your link profile natural.
1. Editorial Backlinks
Editorial backlinks are also known as contextual backlinks. They are probably the most powerful backlinks a website can get as they directly impact the authority of a website.
An editorial backlink is when a website cites your link as a reference or a source of the particular information provided in a relevant article.
Here are a couple of ways to get editorial backlinks:
Linkable Asset: You can create content with lots of information and statistics on popular topics that people find interesting. To know more click here.
Link Majesty: Our guest post service is about editorial backlinks. All the links we build are contextual.
2. Guest Blog Backlinks
Guest Post is one of the most popular types of backlinks. SEOs have been using these links for a long time. It is similar to editorial backlinks.
In a guest post, content is marked as a guest post by the webmaster like the following image:
Google doesn't like these links a lot. So, they don't have the same kind of authoritative value as editorial backlinks.
All you need to do is approach webmasters with your content to publish on their websites. This actually takes a lot of time to find webmasters who have an interest in your content. You can check this link to find guest post opportunities.
3. Author Bio Backlinks
Few websites like TheOdysseyOnline and Buzzfeed have contributor sections. Here you can create your author account and publish your content. In the author bio, you add your website URL and it will appear in every piece of content you publish.
Some webmasters only permit links in the author's bio.
4. Directory Backlinks
A directory is a website that allows you to submit your website's URL to create a backlink. These are easy-to-obtain kinds of backlinks for your website. We know directories were so popular before search engines took over.
Directory websites generally have many categories and subcategories to find websites.
Directory backlinks add almost no value to ranking. But they help you diversify your link profile. However, excessive directory backlinks might lead to a penalty. So, be careful when building directory backlinks.
5. Social Profile Backlinks
Social media platforms like Facebook, Twitter, Pinterest, etc. allow you to create your business profiles and add your URL as a website. These links are counted as social profile backlinks.
Building social profile backlinks is simple and easy. They help you diversify your link profile. Nonetheless, you don't get any ranking values.
6. Sponsored Backlinks
Most community and organization websites have a SPONSOR page to identify their sponsors. You can reach out to organizations related to your industry and offer them sponsorship.
Also called paid links, sponsored links give your ranking a little boost. Sponsorships pay back in the long run.
7. Homepage Backlink
Most websites have 50-60% of backlinks leading to their homepage. The homepage of any website has the highest link juice compared to other pages. Some websites offer their homepage sidebar for advertisement. We called it banner advertising.
These kinds of backlinks help you skyrocket your website authority. You can add 2 to 3 lines of text and get links from there or add any advertisement image.
It is important to find leading websites in your industry for homepage advertisements. The only drawback is the high cost of these links. You have to pay monthly recurring fees to the website owner.
8. Badge Backlinks
Badge backlinks are a kind of image backlink. You need to start an award program and invite other websites to apply for nominations. If they are interested in your program, then you need to shortlist the websites and publish them.
Offer webmasters a unique badge to add to their websites. You can send them an embedded code of your badge where your website URL is also included.
If they use that badge, you will get a badge backlink. This is a long process and you have to have good recognition within your industry.
9. Comment Backlinks
We read blogs that belong to our industry for learning new things. Comment backlinks are created by commenting on other websites or blogs. They are useful when the blog topic is relevant to our industry.
Most blogs offer a comment section. Go to the comment section and say something useful or ask relevant questions.
Blogs approve comments automatically or manually. In either case, it is important to post a relevant comment – Don't be spammy.
These backlinks also help you to diversify your link profile. Never try to over-build comment backlinks or Google will mark you as a spammer.
10. Forum Backlinks
Forum backlinks were used by SEOs in the past. This was one of the popular ways to build backlinks rapidly. But Google marks them and awards them with a sweet penalty. So, be careful of building forum backlinks. Never overbuild.
Join only industry-related forums. Share your knowledge and refer users to your website along with other authority websites.
11. 301 Backlinks
301 backlinks offer the most popular way to get quality backlinks and rank higher on search engines quickly. However, you have to own another authoritative website to do this.
Some SEOs purchase relevant authoritative expired domains and migrate all their content to the new website with 301 redirects.
With 301 redirections, they actually forward all link juice to the new website.
The risk of 301 backlinks is minimal. However, Google can manually review and penalize this activity.
12. Testimonial Backlinks
When you buy services from companies or agencies, you can send them a review. Some businesses publish customer reviews as testimonials on their own website by mentioning client website URLs.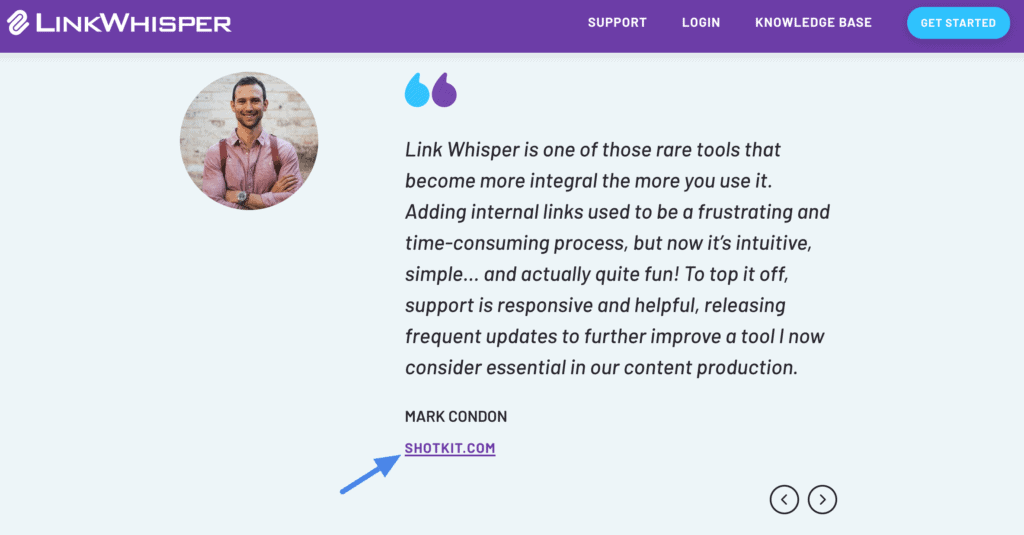 Most of the time these testimonials are published on the homepage. As we discussed earlier, the homepage has the most link juice compared to other pages.
So, these backlinks can boost your ranking.
Final thoughts
When we cook something delicious, we often use a mix of different ingredients. Your backlink profile is just like a recipe. You need to have a well-balanced number of different types of backlinks. Anything unnatural or excessive can ruin your efforts.
Happy Link Building!